SMART ROBINIA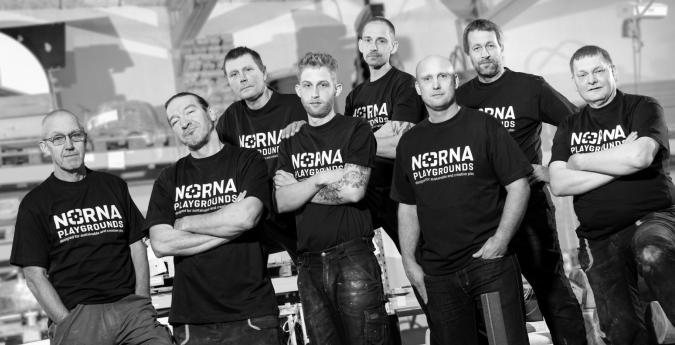 The SMART ROBINIA® pre-drilling system has been developed by NORNA PLAYGROUNDS over several years. This means that today we are the only ones on the market to have a modular pre-drilling system for Robinia wood. This enables us to drill two completely unique trunks exactly the same EVERY TIME. This provides many benefits throughout the value chain, from production to installation.
Traditionally, the installation of Robinia playgrounds requires extensive knowledge of both products and the playground standard EN 1176. In addition, it also requires that you are in possession of several types of special tools. All three requirements are reduced by using a SMART ROBINIA® – pre-drilled product.
All holes are drilled.
Fittings are fitted.
Each post is labeled for easy identification.
The pre-drilled holes also ensure that the mutual position of the posts is correct at all times and is set up in accordance with the requirements cf. EN 1176. There is therefore no risk of creating an accidental pinch trap in connection with the installation.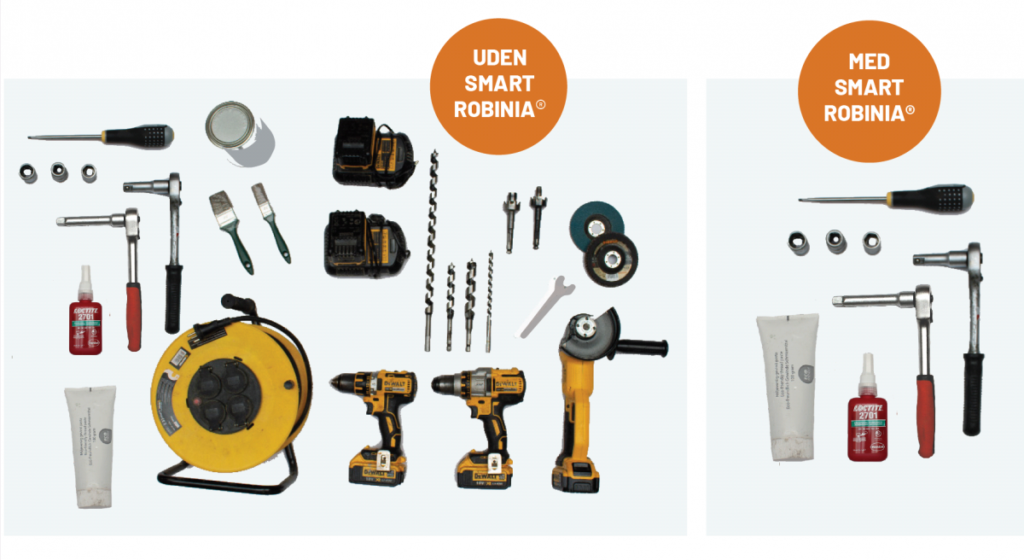 A SMART ROBINIA® pre-drilled playground solution requires few tools to install, which also means there is no need for special tools. Most often, Robinia posts must be adjusted during installation. This processing requires separate special tools, such as drills, countersinks, grinding and cutting machines, etc.
See photo for comparison of tool requirements for a NORNA PLAYGROUNDS Robinia Deck Swing, LE20200 with and without SMART ROBINIA® pre-drilling.
Modular and easy to replace and expand
Thanks to the refinement Smart Robinia® adds to the products, it is simple to replace spare parts. With SMART ROBINIA® from NORNA PLAYGROUNDS, the modular pre-drilling ensures that each part is drilled the same EVERY time. A possibly replacing, for example, a swing rail, will usually require enormous amounts of time for adaptation and, not least, the use of many special tools.
When your product is SMART ROBINIA® refined, you can easily replace a part with the same few tools. See the image above.
Distances, holes, angles and fittings will sit exactly as on the part taken out of use.